News
Sheffield Abbeydale Park Rise Christmas Lights Show the Night Before Amey Grinch Cut Them Down
The Labour controlled Sheffield City Council's 'streets ahead' PFI contractor Amey has deployed increased tree felling / security resources at the start of this week in an attempt to fell hundreds of trees before the end of this year by deploying what resembles an army of green capped hi vis jacketed security personnel to accompany felling crews that tend to far out number the protestors standing beside street trees in freezing temperatures across dozens of Sheffield's streets. The catalyst for this weeks escalation is the looming deadline contained within the PFI contract to fell 6,000 of Sheffield's big street trees by the end of 2017 (out of an estimated total of 36,000).
Thursday saw the Amey personnel descend upon the cherry tree lined Sheffield suburban street, Abbeydale Park Rise, populated by at least 60 Cherry Trees which each Christmas has virtually every tree covered in Christmas lights as is the case for this year. With security personnel and felling crews having descended upon the narrow street towards meeting Amey's 6k street trees felling quota as the following video illustrates: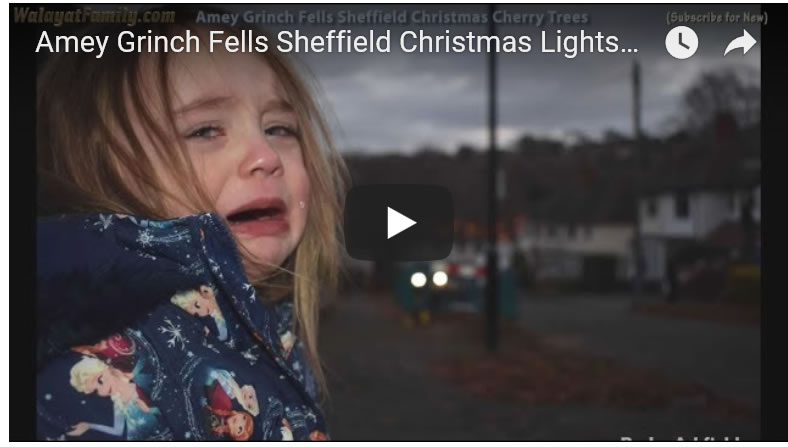 Here are a few stills from the 12 minute video: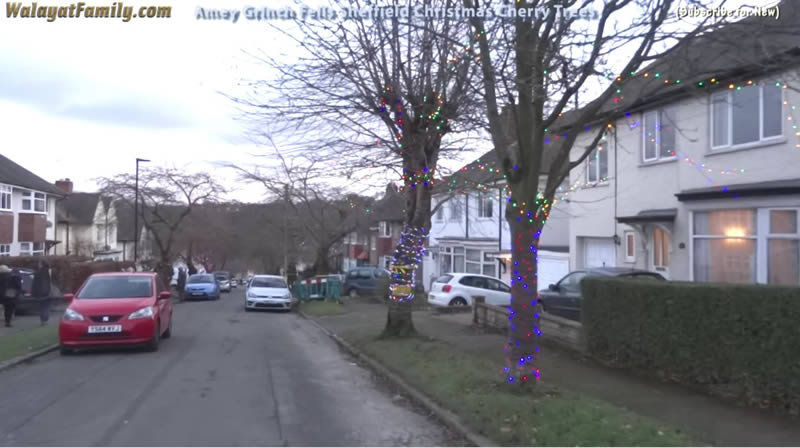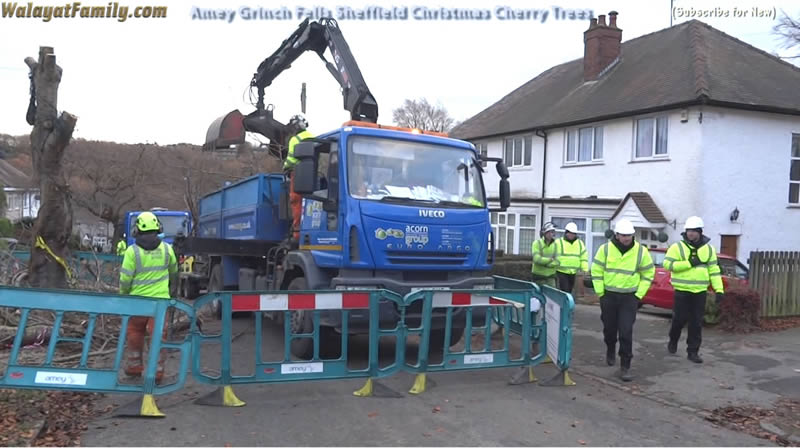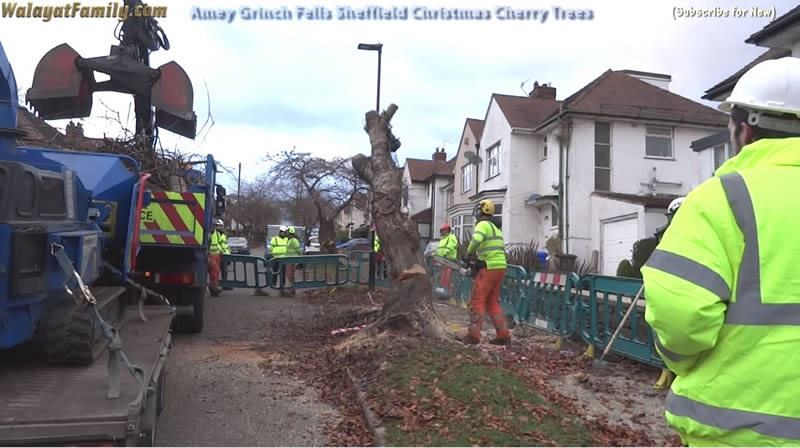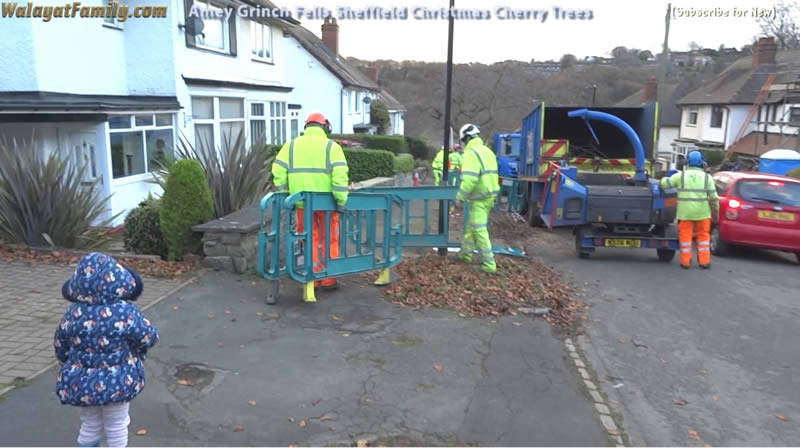 To date approximately 5,750 of Sheffield's big street trees have been felled leaving 250 remaining to fulfill contractual obligations and thus with the holidays approaching the Council and it's contractor have adopted a blitzkrieg approach by blanket coverage of whole areas with barriers surrounding dozens of trees as they play a cat and mouse game with tree campaigners eager to prevent further tree felling's. Campaigners are now being met with increased security measures as following youtube video illustrates.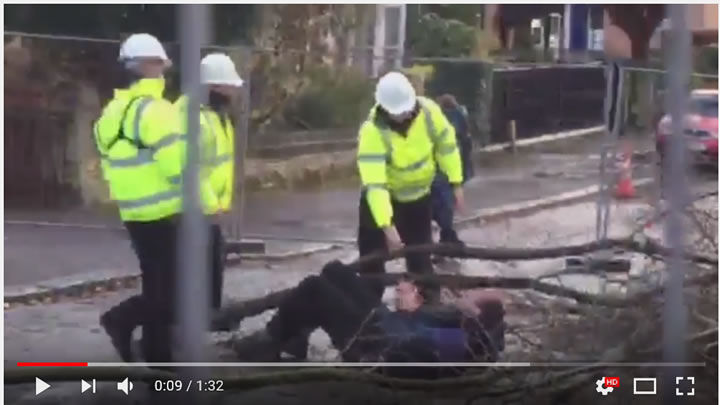 However, for most of 2017 the situation at felling sites had proven to be largely peaceful on both sides of the barriers as protestors crossing barriers to prevent the felling of 'healthy' trees at worst would tend to have their photos taken by Council information gatherers.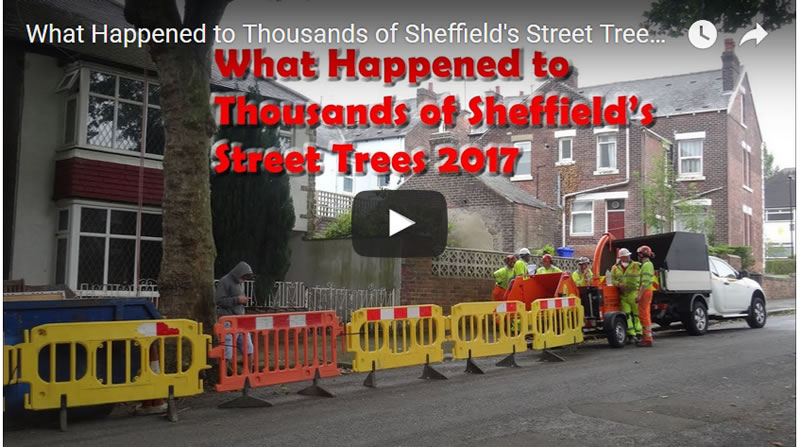 However, the start of this week has seen a Blitzkrieg approach, one of aggressively deploying private security personnel for the purpose of fulfilling the contracts quota of felling 6000 big street trees by the end of 2017, the first 5 year tranche of a 25 year contract.
As for the impact of the felling to date, apart from the impact on the health of Sheffielders by the removable of thousands of trees that had been soaking up vehicle pollution, one unintended consequence is being felt in Sheffield's housing market in the wake of leafy suburban streets being stripped of many of their street trees house prices have also been felled. Sheffield's tree lined leafy suburbs that the estate agents so welcoming advertise are increasingly becoming no more. Trees that have taken more than a 100 years to reach their adult splendour have been felled in there thousands leaving behind either voids or saplings that can fail to survive or are prone to vandalism, all in exchange for large trees with capital values of between £50k and £150k now permanently gone!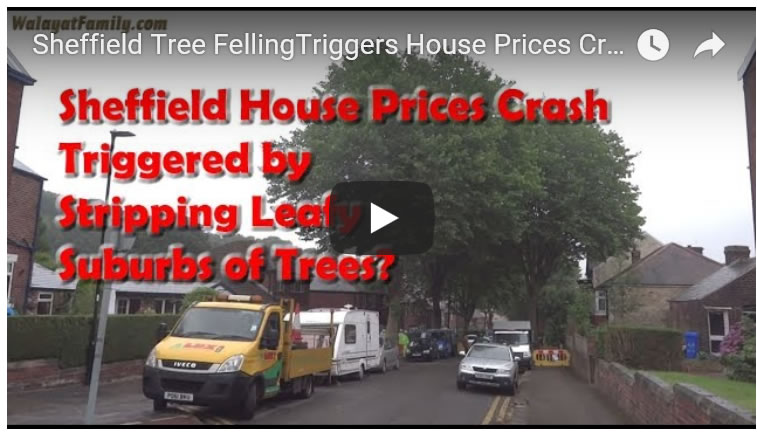 At the end of the day the show of force on Sheffield streets today is the Labour controlled council gambling on that the public will forget what took place by May 2018. However, even if Labour halts the felling by the end of this year it may already be too late for Labour which come May 2018 could see the Labour party lose overall control of the Council with the Greens holding the balance of power over a split council.
By N Walayat
Copyright 2017 http://www.walayatfamily.com/ - All Rights Reserved