News
Made in England: The Right Honourable David Blunkett M.P - Made in England - The Memoirs of Dr Choudry Mohammed Walayat MBE
Foreword By The Right Honourable David Blunkett M.P.

CHOUDRY WALAYAT is one of those extraordinary people who did not
simply choose to make Sheffield his home, but rather his life's work.
Having already had an interesting and challenging life in Kashmir – as
this story indicates – he then, from 1961, chose to contribute to the
community which had welcomed him, and to whom he has more than repaid
a debt of gratitude.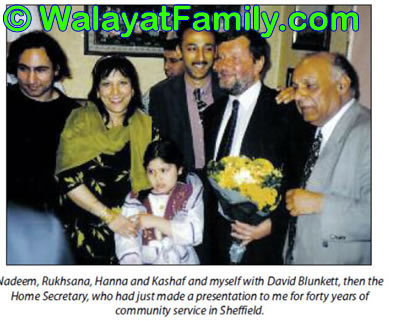 Personally I have been proud to have known Choudry and his family. His mission to make the world a better place is reflected in the activities that he has engaged in and encouraged his own family to be involved in. As an elected member of Sheffield City Council from 1986-98, he was able to bring his humour, his experiences and his contacts across the community to bear in the interests of the city as a whole.
From generating exhuberance and cheer wherever he goes, to the major drive to make Sheffield and South Yorkshire a safer place (through his work
with the police over many years), through to his deep and caring commitment
to social cohesion, Choudry has made a difference to the lives of those around
him.

Honoured by the Queen, but crucially honoured and appreciated by our
community, the reflections in this book are a fitting tribute, and a timely
reminder, just how much good so many people like Choudry are doing in
making our city a better place in which to live.

I am pleased that John Cornwell (a long standing friend of mine) has had
the opportunity to support Choudry by writing these memoirs in a way that is
not only a riveting read, but charts Choudry's life and many activities, while
standing as a testament to the kindness, thoughtfulness and commitment of
the man
Dr. Choudry M. Walayat MBE
Copyright 2009 - Dr. Choudry M. Walayat MBE
You May contact Choudry Walayat on his Mobile - 07941016417 (UK)
-------------------------------------------------------------------------------------
All rights reserved. No part of this online book may be reproduced, stored in a retrieval system or transmitted in any form or by any means, electronic or mechanised, by photocopying, recording or otherwise without the prior written consent.

Online Copy Published by Nadeem Walayat - Contact admin@"REMOVE"walayatfamily.com
Hard Copy Published by Kashaf Walayat - ISBN Number 978-0-9560445-0-1 - Contact on Mob. No. 0044 7766 22 1006
All facts and opinions in this book are the sole responsibility of Dr. Choudry M. Walayat. The book has been written in co-operation with John Cornwell, who produced the final texts of the chapters of the book.