News
Made in England: It Has Taken Eighteen Years - SHEFFIELD CITY COUNCIL 1986-98 - Chapter 10 - Made in England - The Memoirs of Dr Choudry Mohammed Walayat MBE
In May 1986 I was proud to be elected to the Sheffield City Council for my own ward of Darnall. I was not the first Asian councillor; that was Mukesh Savani in 1982, who had come to Britain from Uganda as a boy when Idi Amin expelled the Asian community from that country. However, along with Qurban Hussein, who was elected at the same time, we were the first Pakistanis to become councillors and I was determined to properly represent all the people of Darnall, as well as making sure that the working class Asians in the City had a voice in civic affairs.
In my acceptance speech, when I was first elected, I quipped: "It took me eight hours to fly the 4000 miles from Karachi to England but it has taken me eighteen years to get from Darnall to the Town Hall." Although I had always believed that if people of any ethnic group want to live in dignity and gain respect in a new country, they must play their part in the institutions of the city and the country. To this end I encouraged people in our community to become members of British political parties, which at that time meant joining the Labour Party, although a few now flirted with the Liberals. Very few Pakistanis would have supported Mrs. Thatcher in the Eighties and similarly very few saw any point in forming separate Muslim parties. They would always be a minority and probably never gain any MPs, nor would they have any real political influence, let alone gain control of Town Councils.
I had been encouraged to try for the Council by a number of leading figures in the Labour Party. First and foremost was our local Attercliffe M.P., Pat Duffy. As I have said, I had helped him over the years with cases concerning his Pakistani constituents: I had great trust and faith in him and I believe he returned those sentiments towards myself. He retired from Parliament in 1997 but we have remained good friends. When I went to the selection meeting to choose the Labour candidate, Pat, a devout Catholic, said he would pray for me so I guessed I was more than halfway there already. Another backer was Dan Sequerra, the Chair of the District Labour Party, who was himself of Portuguese descent. He was keen to find councillors from the different ethnic groups in Sheffield, and I was considered a potentially suitable representative of the Asian community in the east end of the city. It was important to me to represent my own area (many Labour councillors in Sheffield lived in wards other than the one they represented, especially if they resided in the Conservative-controlled western suburbs) and the opportunity came in 1986 when the sitting councillor, Roy Munn, decided to stand down. He was a very nice man and had just been Lord Mayor (his niece Meg Munn became the MP for Heeley in 2002) and he too encouraged me to try for the vacant seat.
Came the night of the selection meeting at Attercliffe Vestry Hall in January 1986, I was still nervous about the outcome. My sixteen-year old son Kashaf, told me that some of the delegates might not be able to pronounce my name but were still prepared to support me. He said, "Wear a woollen hat and tell people to vote for the man called 'woolly hat' ". I took his advice and I am sure it improved my chances. One of my rivals was John Cornwell, who had been a councillor for Darnall between 1971-74 and more recently was the Deputy Leader of the South Yorkshire County Council. However, I knew I had a lot of support from Labour members who were from my own community and John Cornwell now laughs about it when he says, "When it was my turn to be interviewed I walked into the room where the selection meeting was taking place and saw that 90% of the members were Pakistani, and I knew then who was going to win that night." Looking back he now says that it was far more important that a local man got the seat, and that the sizeable Pakistani population in the city would now get a voice in the Town Hall.
I was not joining any old council either. Sheffield City Council in the Eighties had been at the forefront of everything that was going on in local government at the time. Whether it was outright political opposition to the Thatcher government, or massive new administrative reforms such as the creation of six new tertiary colleges and the evolution of the 11-16 secondary schools. When I was elected, David Blunkett was still the Leader of the Council and the City Council was a byword in British politics for radicalism and municipal socialism. The struggle against the Thatcher Government had been very bitter, leading to the climax of the rate-capping issue, and exacerbated by the Steel Strike of 1981 and the Miners' Strike of 1984-85, both of which had their epicentres in South Yorkshire.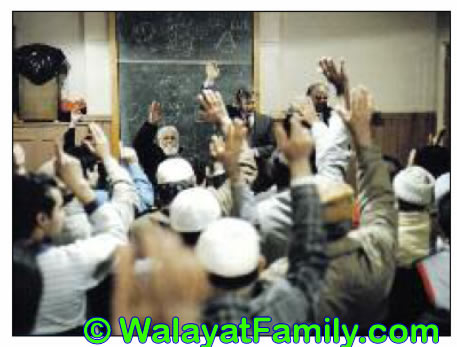 Darnall Ward Labour Party acclaim me as their candidate for the 1986 City Council Elections. Rob Murray, theWard Secretary, is in the centre facing the camera along with Haji Mir Afsar Khan in the white beard.
Although Labour was still firmly in control of the Council in 1986 when I got elected, nonetheless I had joined at a pivotal period of political transition. David Blunkett remained the Leader for one more year, before being elected to Parliament for the Brightside constituency. Yet, even before he left, the Labour Council, having got a "bloody nose" over rate capping and suffered a bitter division among its councillors when their votes split in crucial debates, had decided that its future lay in co-operation with the local business community and adopting a less confrontational posture towards the Conservative government. That defeat over rate capping (essentially it meant the loss of independence over the rates element of the Council's finance) had proved a salutary lesson, and had been expensive, because Sheffield had suffered financially as the Government punished the city through reducing central government grants.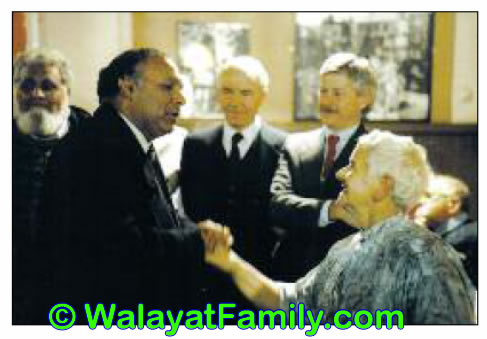 I congratulate long serving Labour Party member, Lilly Fenn, on her award for service to the Labour Party over many years. Also in the picture is Sir Patrick Duffy, the MP for Attercliffe and Minister for the Navy, along with Rob Murray (with arms folded).
First Impressions
As a new boy I accepted this new situation and was a little overawed at first. The superb Town Hall, opened in 1897 at the height of the city's Victorian municipal confidence, had always seemed such an impressive building to me. When I worked on the Corporation's buses it was where my "bosses" made their decisions and I had always wondered what went on inside its great stone walls and corridors of power. I was about to find out, although I already knew a fair number of my Labour colleagues very well. One of the other Darnall councillors, Frank Prince, had just become the Lord Mayor and I had previously had close friendly contact with Councillors Tony Damms and Jimmy Jamieson, while David Blunkett himself went out of his way to welcome me and give me help and support. However self confident you are it is not easy to fit immediately into any great institution, which will have its own ways of working and its own ethos and traditions, along with its own accepted precedents for decision making.
Despite this I did not take long to make my maiden speech in a council meeting, and from the beginning I was prepared to contribute to discussions in the regular Labour Groupmeetings, where all the real decisions were taken. After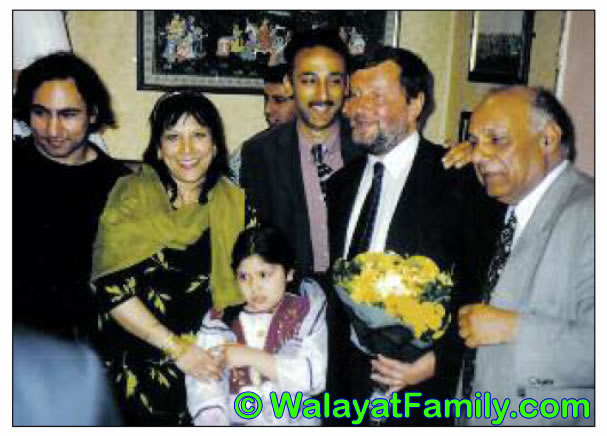 Nadeem, Rukhsana, Hanna and Kashaf andmyself with David Blunkett, then the Home Secretary, who had justmade a presentation tome for forty years of community service in Sheffield.
all, councillors like Qurban and I were bringing a new dimension to Labour politics in the Town Hall, and we had plenty to say and important actions we wanted the Council to take. When Clive Betts became the new Leader in 1987, after David Blunkett's election to Parliament, he recommended me to become one of Sheffield's representatives on the new South Yorkshire Police Authority. This was a newly constituted body after the South Yorkshire County Council (which had been the Police Authority since 1973) had been abolished, and the new authority now contained representatives of the four District Councils, Barnsley, Doncaster, Rotherham and Sheffield. I was delighted to be nominated for such an important body by my colleagues. Having a representative on the Police Authority was especially important for the Asian community, and I felt I could make a useful contribution, because I had relevant experience working in cooperation with the local police in Attercliffe and on the Liaison Panel.
The Darnall Housing Co-operative
My work with the Police Authority was to become my biggest contribution to civic life over the next decade and I cover it more fully in the next chapter. However, now that I was a councillor I could wield more influence in other issues and projects that were of benefit to the Asian community in Sheffield. Sahdar Khan, who was a senior officer at the Town Hall, introduced me to Jack McBain, a Canadian who worked for the Council's Housing Department, and with his help we founded the Darnall Housing Co-operative, whose aim was to build good standard, affordable homes for Asian families already living in Darnall. Many of them were caught up in the unemployment that was affecting thousands of Sheffield workers as the steel and engineering industries contracted in the Eighties, but if Asian families were to put down roots in Britain and feel part of the society, then decent homes were a prerequisite. With the support of the South Yorkshire Housing Association we built thirty semi-detached houses at the northern end of Shirland Lane, and this new neighbourhood was called Kashmir Gardens in recognition of the homeland of most of the new residents. They still flourish today and are of superior design and construction to the older terrace houses round about. Some are as large as six-bedroom houses and are designed to meet the needs of the large families that are common among the Pakistani community.
The Pakistan Muslim Centre 1989
I am particularly proud of my role in getting the housing co-operative up and running in 1987, but the next project I was involved in was even more crucial for the Pakistani community. Again, I was able to play a key role because I was a councillor, and my colleagues now included leading members of the City Council who could make things happen. I lobbied the new Leader, Clive Betts, for a community centre for Pakistani people in Sheffield. For some years we desperately wanted to create a focal point for our activities and a base for our social occasions and our small-scale economic ventures. A large community centre would give us a stake in the city, a place of our own where we could feel pride and where we could announce that we were now a successful community, within the Sheffield family of communities. The desire for such a place is in no way sinister; it is what almost all ex-pat communities do. The Poles, stranded in Britain after World War Two, had their centre on Ecclesall Road, while the British almost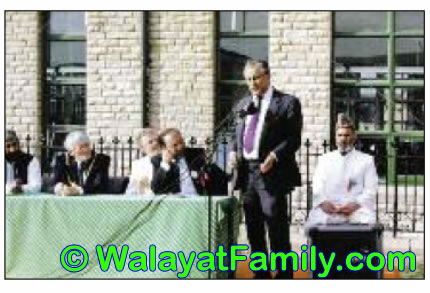 The new Pakistani Ambassador, Sher Yar Khan, addresses the audience at Star Works. Also in the photograph are the Lord Mayor, JimMoore, and the Lady Mayoress and Mohammed Nazir.
always have clubs, bars or restaurants that cater to their tastes and cultural traditions in places where they have put down roots, whether it be in Marbella or Hollywood, New York or Hong Kong.
Initially, we did not expect that the Council would be able to fund and support a centre just for the Pakistani community, so we considered linking up with the Afro-Caribbeans and other ethnic groups to establish a purposebuilt new community centre. However, the Afro-Caribbeans went ahead and developed their own SADACCA Centre in the Wicker, leaving us to concentrate on creating our own place. Because I was a councillor, I acted as the spokesman for the Pakistani community in dealings with the Council. I persuaded Clive Betts to identify a suitable building and then help us find the finance for the project. There were a number of redundant schools at that time, partly because of slum clearance and partly because of falling rolls due to demographic factors. One such building had been the junior school at Woodbourn and it looked ideal for our purposes. It was near enough to Darnall for convenient access; moreover, it was a complex of substantial buildings with a high perimeter wall that created a sheltered compound within. The buildings had only recently been vacated and were in reasonable condition.
Like all Victorian primary schools, the spacious main hall was a central feature of the building and would serve for communal gatherings, large meetings and social events. There were separate teaching blocks that would serve as discrete offices for small businesses or even modest workshops.
The Town Hall officers, however, were somewhat uncertain whether we could carry off a project of this size. "After all", they said, "You cannot agree about a name for the Centre so how are you going to co-operate to run it?". It was true. Some people in the community wanted to call it the "Kashmir Centre" others preferred "The Muslim Centre", while another group wanted to name it the "Pakistani Centre". I could see the project floundering on what might be considered a cosmetic issue, although I realise the name of a project is important: just ask any advertising executive. Grasping the moment I called out. "There is no logic to your argument: When a baby is born, the parents would not stop having the baby just because they could not agree on a name!" There was some laughter and it broke the tension. I quickly followed up by suggesting that we call it "The Pakistani Muslim Centre", thereby covering most of the bases and satisfying the great majority.
The Council appointed me as a non-executive director and their representative on the management committee. The first Co-ordinator of the Centre was Nazir Haji Mohammed OBE, who also became a City Councillor when he was elected in 1995 for Sharrow Ward. The committee selected me to be the Chair of the Appointments Panel and I got on with the job of recruiting the staff. One of the first appointments we made was to appoint Shahid Malik the manager of the centre. This was a happy choice, and he has since gone on to be elected as the MP for Dewsbury and is currently a Parliamentary Under- Secretary at the Ministry of Justice. However, running the centre was no easy matter with so many different groups wanting to have their own way. They could see what a power centre within the community the PMC had become and there were allegations of unfairness and abuse of power and the misuse of money. To make sure that everything was organised properly, the council tasked me with drawing up a fair, impartial and transparent election procedure for the PMC's Management Committee. I got everyone to accept that the only fair way would be one member one vote and this was accepted and it calmed things down.
We owed it to the Council, and especially Clive Betts – for the Centre would never have been built without his personal backing – to get our house in order. The PMC was opened in 1989 and really was a triumph for the Pakistani Labour Party members and their Labour councillor supporters in the Town Hall. It is of course open to all people of whatever political party and currently many leading members are supporters of the Liberal Democrats. Although the Council continued to own the buildings and had been very helpful, we did have our disagreements with them. To recoup some of their money the Council rented off some of the rooms in the smaller block to commercial operations, while we believed that this was one group of buildings that should be exclusively for the use of the Pakistani community. An officer from the Town Hall just walked off with the keys and I was furious at his high handed action. I rang them up and told them they had twenty-four hours to return them – or else! I'm not sure exactly what we would have done, but the keys were dutifully returned before the deadline was up.
Eventually it was agreed with the Council that we would set up a Pakistan Enterprise Centre in these adjacent buildings. I was made the overall Chair of both bodies, the PMC and the Pakistan Enterprise Centre, and it was my job to make sure these two different organisations worked in harmony and not at cross purposes. I remained in this position for about a year, but eventually I resigned, because I was fed up with allegations about abuse of money by members of the Management Committee and I wanted to keep my name clean.
In between working on these major projects, like the Darnall homes and the PMC, I was also involved in the day to day business of the Council. I was chosen to be the Chair of the Community Safety Panel that monitored the work of the Council's Community Safety Unit, and I was also the Chair of the Ethnic Minorities Education Advisory Committee. I also chaired one of the Area Boards set up by the Council (mine covered Manor, Darnall and Castle Wards) to allow discussion with the public about local issues that could then be fed into the relevant committee. Through these positions I was involved in many appointments and if there were Asian, or other ethnic minority, candidates for Town Hall posts who were good enough, I did my best to see that they got a fair hearing. Because of my efforts, over a period of time quite a number of applicants from the ethnic minorities were appointed to officer positions. This was important if the Council was serious about encouraging ethnic minority people to be an integral part of the whole community.
Opening up Manchester Airport
By 1989, the Pakistan Muslim Welfare Association (PMWA) had been pressing for some considerable time for the major airlines, PIA and British Airways, to organise flights to Karachi and Islamabad from Manchester Airport. It was a great inconvenience to Pakistanis in the North of England, of which there were now many, to have to get down to Heathrow every time they wanted to fly back home. As the Pakistani community prospered, so more people were able to afford regular flights for themselves and their family members. The lead in this campaign had come from Ghulam Nabi, secretary of the PMWA,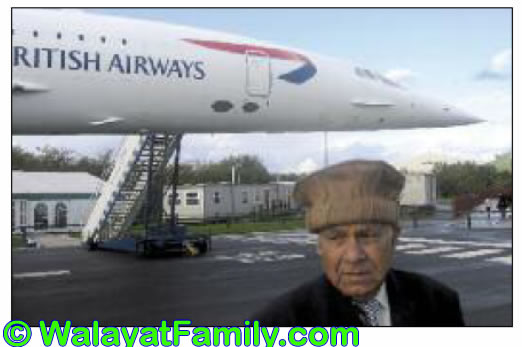 Standing in front on Concorde at Manchester Airport where we had negotiated flights to Pakistan in 1989. Unfortunately they were not in Concorde.
and I now lent a hand, as my new position as city councillor might help to attract a sympathetic attitude from the authorities. Under pressure from our organisation, airport officials came over to Sheffield on several occasions to discuss the issue with us at our Star Works HQ. The Airport's attitude had always been that there just would not be enough traffic to justify giving flights to Pakistan a slot in the take-off and landings schedule at the airport. They argued that there was no economic case to cause them to make additions to the scheduled flights using an airport that was already virtually full to capacity. They also pointed out that there were many airlines demanding access to the North's only real long-haul international airport and there had to be a limit.
Eventually, however, they relented and agreed to give flights to Pakistan a trial run, and both PIA and BA have run flights from Manchester to Karachi and Islamabad ever since. We were invited to the opening ceremony for the inaugural flight to Pakistan, along with the Pakistani Ambassador, Sher Yar Khan, and Lord King, the Chairman of British Airways, who came up from London for the opening because they could both see how important this new service would be to the Pakistani population in the North of England. It was a big triumph for Ghulam Nabi, and I was pleased to be associated with the issue because it is a great benefit to all the Pakistani community in Yorkshire and Lancashire, including myself as I always use Manchester airport when I can.
The 1991 World Student Games
During the World Student Games in July 1991 I was not directly involved in helping to run the games although the main events were held in my ward and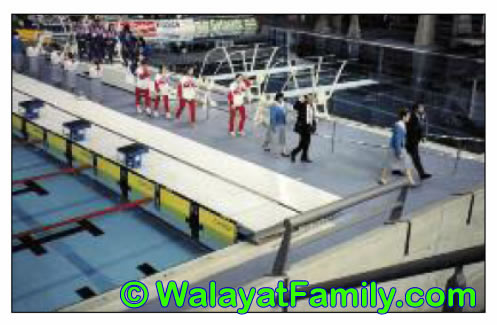 On my way to presenting gold medals to the Japanese Women's Relay Swimming Teamat Ponds Forge Pool during theWorld Student Games in 1991
the Student Village was only next door, in the empty Hyde Park housing project. Most of the athletes were housed in the flats in the huge 19-storey block that had been cleared of its former tenants prior to demolition. The flats were quite sound but as they had reached the end of their lives we let the student athletes decorate them in any manner that they liked. Although the 19-storey block was due for demolition in a few weeks time, it had never looked better than when it was full of those young students enjoying themselves, in the very good summer weather we had that fortnight.
I was in favour of the World Student Games, which I supported through all the bitter debates we had inside the Labour Party and in the Council. After all, two of the most important new facilities were being built in Darnall Ward and they would bring physical regeneration to a blighted area and produce some employment as well. Don Valley Stadium, for a decade the best athletics stadium in Britain and the home of the Super League club, Sheffield Eagles RLFC, was just down the road from where I lived, while the Arena – which became the main venue for pop concerts in the North of England and, extraordinarily, the International Bollywood Awards in 2007 – was only half a mile away. Whatever criticism was levelled at the World Student Games, and there was plenty, it was a crucial factor in restoring the Don Valley corridor in my ward.
Kashmir Independence debates
I spoke in debates in Council on general issues, but in 1993 I was instrumental in getting the Council to support Kashmir Independence. At the end of council meetings, there is an opportunity every month to discuss some general political topic by way of a Notice of Motion. Some councillors cannot wait for the normal committee business to be completed so they can have a free-for-all political debate and bash the opposition, especially when the Tories were the Government at Westminster. I proposed the motion, supported by Qurban Hussein, and after we had spoken so passionately, our call for Kashmir Independence was supported unopposed by the Council members. Normally these closing debates generate a lot of passion and perhaps a fair amount of hot air, and one can imagine the resolutions soon end up in someone's waste paper basket, probably in Whitehall. However, I was pleased we had succeeded with this vote because the Kashmir problem is largely ignored in Britain. South Africa, Kosovo, Darfur, Zimbabwe have all caught
the British public's conscience at some time or other, but not Kashmir, where the Muslim population feel desperately aggrieved by the fate history has delivered. I appreciate that there is an embarrassment in the U.K., that two Commonwealth countries, who most British people only know through their cricket teams, cannot resolve their differences and find a working compromise. So it was important to us to get the Kashmir issue on the political agenda.
I also raised it in my constituency meeting and Attercliffe CLP agreed to send it as their resolution to the Labour Party Conference, to be held at Brighton that September. There were seven other similar resolutions and the issue was debated at the Conference, thereby gaining a national profile for our deeply held concerns.
Burying our dead
One issue that was of considerable concern to the Muslim community was the closing of cemeteries at the weekend and on Bank Holidays. You could visit the graves but the staff were not on duty and people could only be buried on a weekday. This was no problem for the Christian population of the city, who prefer a short period of mourning before the body of their loved one is buried or cremated. However, for Muslims it is of vital importance and religious significance that our dead are buried within twenty-four hours of their death.
I got the Chair of the relevant committee, Pat Midgely, and Liz Bashford, a senior Legal Officer of the Council, to agree and the upshot was that all cemeteries would be open for burials, if one was required, within twenty-four hours. Sheffield was a pioneer of this practice and again had led the country, after listening to the request of the Muslim community.
Recognised by the Queen
In 1995 I was absolutely delighted to receive the MBE from the Queen at Buckingham Palace. The citation said that it was awarded for community services and that was very pleasing, because I had tried to make it my life's work to help my own Pakistani community progress and advance themselves. Similarly, I wanted to play a full role in Sheffield's general life and show that an "immigrant" from Pakistan could represent all the people of his area. That we could contribute as much to the city and its civic affairs as someone whose family had lived in South Yorkshire for generations.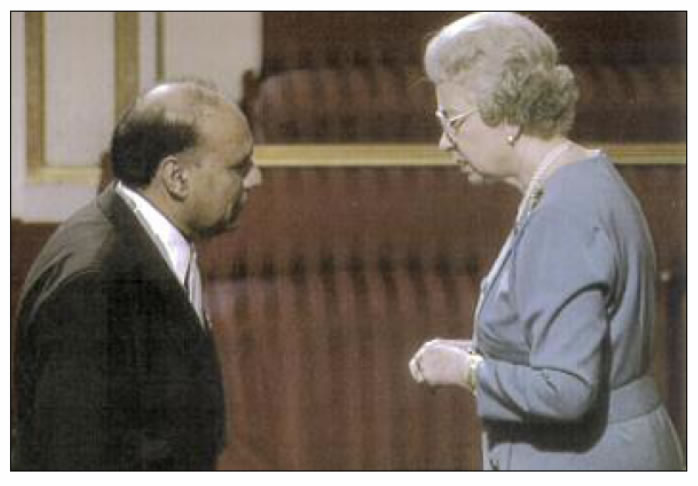 I am invested with the MBE by the Queen at BuckinghamPalace in 1995. A very proud moment for a lad from Mirpur.
The medal itself is still rather quaintly inscribed with the words "For God and Empire", so having been born a member of the British Empire back in 1936, ironically I became one again in 1995. I went down to London with Rukhsana and my two sons, Nadeem and Kashaf, and at Buckingham Palace I joined other recipients who were lined up to await their turn to be presented to the Queen. When it was my moment to go forward, the Queen said something that I thought was rather special. She smiled and said "I am proud of you that you have got my honour". For a boy who was raised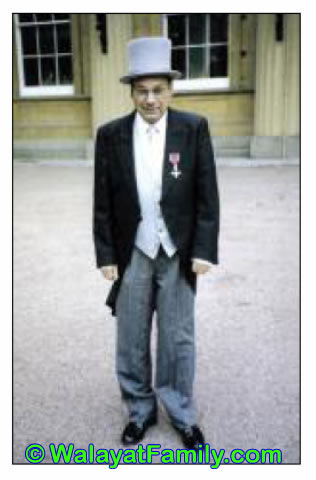 Outside BuckinghamPalace, after the investiture, wearing the MBE decoration. This must have been the biggest top hat they had at the official outfitters, but fortunately I did not have to wear it again.
in abject poverty in a disputed land many thousands of miles away, to be now talking to the Queen of England in Buckingham Palace was an amazing and unforgettable experience. The whole day was rounded off in considerable style, when Clive Betts hosted a lunch for my family and myself on the terrace of the Houses of Parliament.
Some people in the Labour Party are rather critical of these honours, but they seem prepared to accept them when they are offered one themselves. Especially as you know that a lot of people have supported your nomination and taken the time to write up letters of recommendation. They also realise that the award is not just personal, but is often recognition for a group, a sport, an organisation or a community that you represent. I know a lot of people in the Asian community and on the Council shared that honour with me in 1995 and this was very satisfying too. Later, I received a framed citation from the City Council, which I treasure and which reminds me that it was my time on the Council that gave me more prominence and allowed me to play a wider role in community affairs. In the New Year Honours List in 2008 my son, Kashaf, was awarded the OBE for services to government through his work at the Department of Children, Schools and Families.Wemay well be the only Asian family where both the father and the son have been so honoured by the Queen.
The last lap on the Municipal Merry-go-round
In 1998 I was due for re-election but decided it was time tomove on.My time on the Council had been interesting and productive, but I now felt that there were other ways in which I could make a contribution to Sheffield, South Yorkshire and my community. I always believe that you should not repeat yourself or overstay your time if you are not as effective as previously. If I had stayed I might in the not too distant future have become Lord Mayor and that would have been a very great honour. I had already been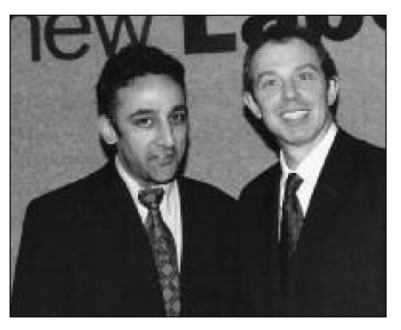 Kashaf, when a City Councillor, meets the newly elected Prime Minister, Tony Blair, shortly after the Election of 1997.
proposed in the Labour Group for the Lord Mayor's position but I lost by two votes to Tony Arber. He was an extremely niceman, and the first Lord Mayor to carry out his duties froma wheelchair, and he did an excellent job in hismayoral year of 1997- 98.
There was still one Walayat left on the Council, as my son Kashaf had been elected for Darnall Ward in 1995 at the tender age of 25. He was one of the youngest councillors in the country at that time, younger than David Blunkett had been when he was first elected, and most likely the youngest Asian ever elected to a council in Britain. Kashaf had his own views and could stand up for himself, but there were debates where one of us proposed a course of action and the other seconded it. Not many councillors can claim they operated as a family unit, and during my time at the Town Hall there were no other father and sons on the Council. Kashaf, in time, may have carved out a leading role for himself on the City Council (he had been appointed a member of the Police Authority in 1997) but he was defeated in the mass cull of Labour Councillors in May 1999. After years of catching up, the Liberal Democrats finally took control of the Council for the first time since 1920, and a Lib Dem defeated Kashaf in Darnall, one of Labour's safest seats.
I had become a little disillusioned with what a back-bench councillor could achieve. I had flirted in the early days with an unofficial "Backbenchers Group"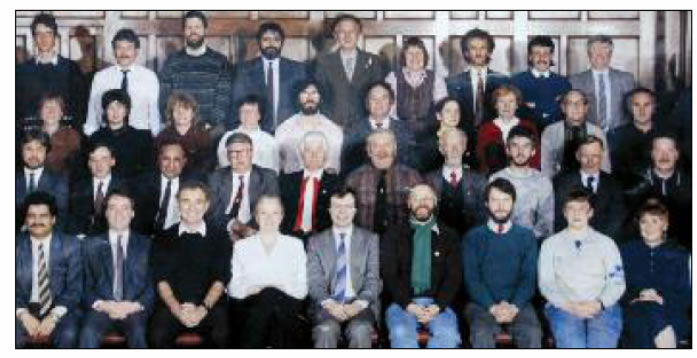 PHOTO OF LABOUR GROUP 1990 with Clive Betts , the Leader, soon to be elected to Parliament. I am third fromleft in the second row. My colleague Qurban Hussein, who became the Lord Mayor in 1993, is first from left front row. Clive Betts is in the centre of the front row, with Joan Barton, Chair of the Labour Group, next to him on his left.
led by Jimmy Boyce, who left to become the MP for Rotherham in 1992, and felt that in the Labour Group, where all the key decisions were made, the members would literally only listen to a few leading figures. When lesser lights like us spoke,most of the other Groupmembers would continue talking among themselves, thereby ignoring the contributions of the rest of us. Not that the Council was without some very capable people in the Nineties. Mike Bower had become the Leader in 1992, when Clive Betts went off to Parliament, and he had been a good friend and colleague from the time he represented the NUJ and I represented the TGWU at Trades Council meetings. Howard Knight, Peter Price, Joan Barton and Jean Cromer among others had guided the fortunes of the City with some expertise and no little style, and I worked well with all of them. Yet there were councillors who did very little to justify their attendance allowance money and quite frankly were just not up to the job.
I was also concerned about how imperfect local democracy was. Only about 33% of the electorate voted in Sheffield local elections and in some Labour constituencies it was less than that. In fact Labour probably got less than half the votes cast but the separate wards and first past-the-post system ensured, until 1999, that Labour always had more councillors. I could see how PR would be a fairer system, but perhaps a man from Pakistan should be careful about criticising British democracy given our record since 1947. Especially so after1999 when we returned to being a military dictatorship under General Mushareff, although Asif Ali Zardari is now the elected President of Pakistan.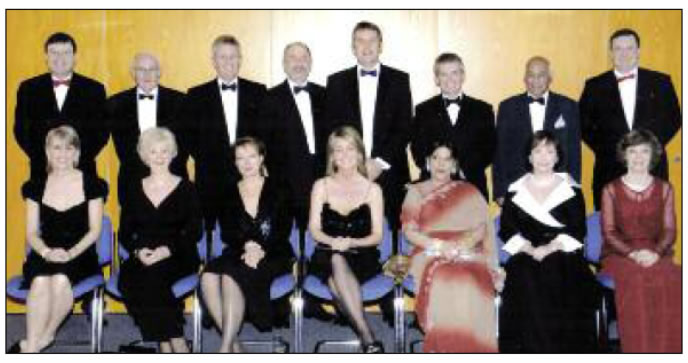 Top Table Guests at the Senior Officers' Dinner held at Police HQ in Sheffield. Rukhsana is seated third fromthe right on the front row.
By Dr. Choudry M. Walayat MBE
Copyright 2009 - Dr. Choudry M. Walayat MBE
You May contact Choudry Walayat on his Mobile - 07941016417 (UK)
-------------------------------------------------------------------------------------
All rights reserved. No part of this online book may be reproduced, stored in a retrieval system or transmitted in any form or by any means, electronic or mechanised, by photocopying, recording or otherwise without the prior written consent.
Online Copy Published by Nadeem Walayat - Contact admin@REMOVEwalayatfamily.com
Hard Copy Published by Kashaf Walayat - ISBN Number 978-0-9560445-0-1 - Contact on Mob. No. 0044 7766 22 1006
All facts and opinions in this book are the sole responsibility of Dr. Choudry M. Walayat. The book has been written in co-operation with John Cornwell, who produced the final texts of the chapters of the book.